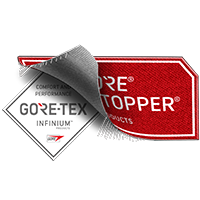 Totally windproof. Maximum breathability.
LIGHTWEIGHT
GORE® WINDSTOPPER® garments are designed as a combination of the ultra-thin protective layer of the GORE® WINDSTOPPER® membrane and a lightweight textile. Together, they offer you innovative comfort that you can wear, or carry, anywhere.
Water Resistant
Don't let light rain or snow ruin your day. The water resistance of these jackets can be relied on to keep you comfortable and protected when you need it most.
Extremely Breathable
The billions of pores in the GORE® WINDSTOPPER® membrane are large enough for sweat vapor to escape. So your microclimate stays balanced, even during intense activity.
Totally Windproof
Not kind-of windproof. Not mostly wind resistant. But don't-even-need-to-worry-about-it, totally windproof. When an icy wind picks up and you're miles from home, that's exactly what you should be relying on.
GORE® WINDSTOPPER® garments
Sometimes you want to stay longer. To not turn away from the lakeside and start for home. To walk the extra mile—or two. Every GORE® WINDSTOPPER® jacket is durably windproof, water resistant, and extremely breathable. This combination of protection and breathability offers you comfort when you need it most, in a jacket that looks great in a wide variety of conditions and situations.